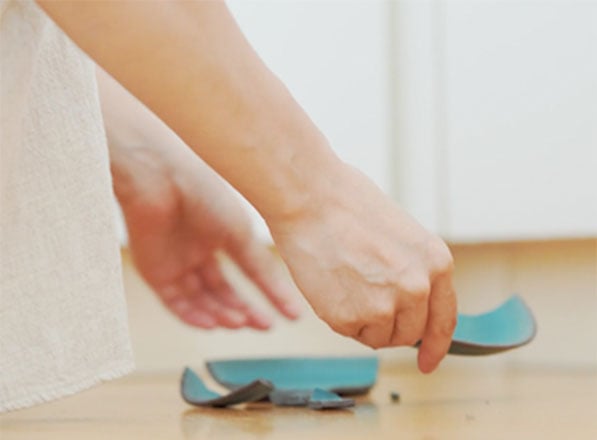 As indidivuals, companies or small businesses, we have most likely all at some point thrown away an old bowl or a cup because it was broken or chipped.
At our kitsugi studios, we collect damaged pieces of tableware made from glass or ceramic that were meant to be thrown away and we use them to teach kintsugi to our students. At Tsugu Tsugu, we see kintsugi restoration as more than a way to recycle old objects. In fact, with kintsugi, the value of each restored object is enhanced and that is why we see our kintsugi projects as "upcycling projects."
If you think it's a waste to throw away your vessels, if you wish for them to be used for a little longer, or if you would like to start doing something good for the environment, what about donating your damaged pieces of tableware to our kintsugi studios ?
What is kintsugi ?
Kintsugi refers to a set of Japanese traditional craft techniques passed down since the Muromachi period (1336-1573) that are used to restore ceramics. Traditionally, kintsugi is exclusively based on the use of lacquer and natural materials. Kintsugi has got very popular over the last year years because it is an eco-friendly and SDGs-compliant restoration method !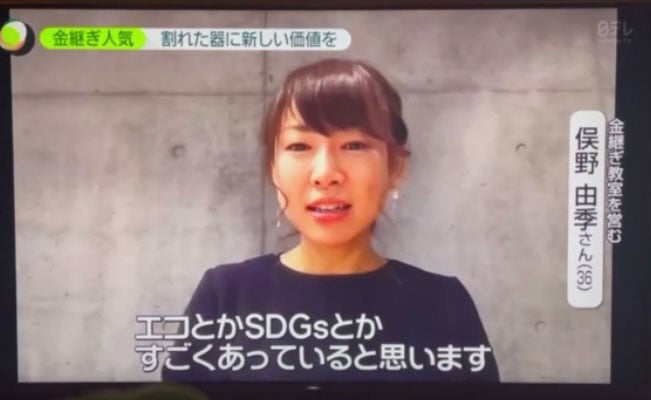 (↑The Japanese TV program News zero came to our studio in Ebisu to interview us !)
What if you could help supporting the tradition of kintsugi through the donation of damaged vessels ?
Many of our students bring their own broken vessels to class every day and enjoy repairing them using traditional kintsugi. However, there are many people who are interested in learning kintsugi, but they don't have broken vessels at home. Sometimes, it happens that some of them buy cheap vessels and break them to have an object to work on during kintsugi classes.

Breaking vessels that are still in perfect condition for the sake of practicing is not ideal. It is something we would like to avoid as much as possible. That is why we have been collecting broken pieces of pottery that were meant to be thrown away by their owners. We use these objects during our classes to help our students to practice their kintsugi skills!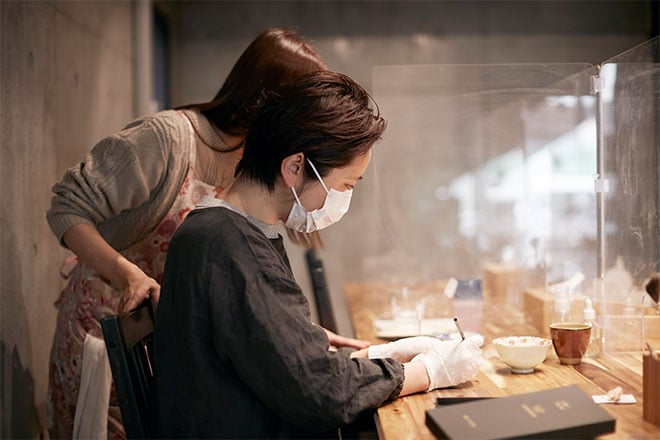 If you wish to donate broken, chipped, or cracked vessels so that they can be reused again, please get in touch with us. In return for your help, we can promote your company or store to those who will use the vessel for kintsugi, or we can post it on our website. If you are a business or have a shop, we would be happy to advertise you on our website as a company cooperating with us on this eco-conscious project.
Who can make donations of ceramic pieces
We accept donations of ceramics pieces from restaurants, shops specialized in tableware, but also individuals. Depending on the location of the objects you wish to donate, their condition, it may be better to bring it to our studio or to ship them to our shop. Please make sure to contact us beforehand if you wish to make a donation so that we can make the suitable arrangements.
(June 2022 – Update :Over the past few months, we have been fortunate enough to receive numerous donations from a wide range of businesses and individuals and we are very grateful for it. However, due to an increasing number of donations, from now on, we will ask donators to cover the shipping fee when shipping is necessary. )
How long is this project running?
We have been doing this upcycling project since April 2021 and we intend to keep accepting donations for the foreseeable future.
At first, we collaborated with restaurants and shops located in the same neighborhood as our studio in Ebisu. On April 1, 2022, a press release (in Japanese) announcing the formal launch of our up-cycling project was published.
With this upcycling project, we aim at giving a new life to a wide range of ceramic pieces and provide our students interesting repair projects to work on.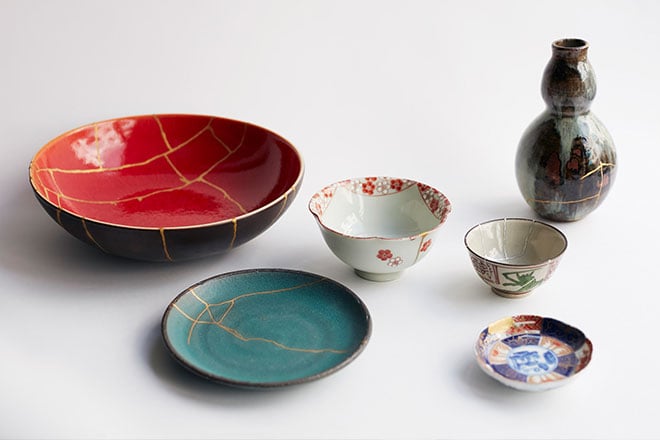 How to Donate Objects and Participate in the Upcycling Project
Here is the steps to follow to participate in our upcycling project:
If you have any broken, chipped or cracked vessels, please contact us! Make sure to tell us which objects you wish to donate, their condition and their quantity. If you can send us pictures, it is even better. Depending on the location, the condition and the number of vessels you are willing to donate, we will decide if the items should be picked up by us, brought to our studio or shipped to us.
Our students will try their hand at kintsugi in our studios using the broken vessels you have donated. If you would like us to advertise the services you offer as a business, we can introduce your business to the participants. We will also list you as a cooperating company on our website.
We will take pictures of the kintsugi process of broken vessels and publish them on social networking sites. We will share the wonderful experience of kintsugi restoration with the world, along with the introduction of the individuals and businesses who have donated the vessels.
Once the repair has been completed, the restored object has even more valuable than before it was damaged. It will either be taken home by the participants as a precious memento of their kintsugi training or resold by our company.
A portion of the funds raised from this project will be used to collect and repair more broken vessels to promote our sustainable and eco-friendly activities.
In the future, we intend expand the scale of this up-cycling project so that we can give a new life to even more objects.
We thank you in advance for your collaboration.
Contact us
Adress: Ebisu studio – akikito apt 1F, Ebisu 2-21-2, Shibuya-ku, 150-0013 Tokyo-to
Phone:03-6879-0940
E-mail:info@kintsugi-girl.com
Business hours:10:00 – 18:00 (Open everyday)